Custom Cosmetic Bottle Packaging
The cosmetic plastic packaging industry can be said to be the fastest-changing industry. Only by introducing new packaging products can consumers be pleased. The term "custom cosmetic packaging" can not only be applied to many luxury goods industries. In the plastic packaging bottle industry, many cosmetic bottle manufacturers also used, it has become the mainstream in the industry.
As a professional cosmetic plastic bottles manufacturers , we has been experienced in design and manufacturing custom cosmetic plastic bottles and containers since 1993. Our creativity and flexibility in design and manufacturing plastic package benefits customers a lot. If you are looking for plastic jars and bottles wholesale, door to door shipping, or plastic sample bottles suppliers, you have found the ultimate online resource.
Types of Cosmetic Bottle
SANLE-one of the leading cosmetic bottles manufacturers in China is excited about our new  cosmetic bottle containers. If you are the professional makeup or cosmetic products manufacturer or the home hobbyist we have cosmetic lotion bottles, sample bottles, cosmetic spray bottle, plastic cosmetic pump bottle and drop bottle for you. From liquid makeup to powders, you are certain to find what you need here at SANLE. Here are some of our popular cosmetic container ideas, however the possibilities are limitless.
Looking for a cosmetic container to package your liquid foundation or loose powders? SANLE offers drop bottle for foundation, which is also called LDPE bottle easily to squeeze. Choosing from loose powder jars with sifters, plastic cosmetic bottles, LDPE bottle liquid foundation bottles with treatment pumps, plastic concealer tubes and more!
We have hot sales custom cosmetic containers for you, which is always classical in cosmetic circle. Changing with different colors and printing, you will get a totally different products, we have many kinds of volumes that meets different needs.
Cosmetic Liquid Foundation Dropper Bottles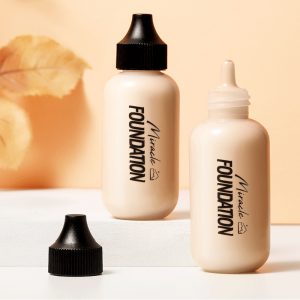 SANLE LDPE half clear bottles are available in many shapes and sizes, great for all kinds of liquid foundation! Our  JF-067, JF-077 30ml 60ml LDPE drop bottle could be ideal containers for a variety of cosmetics, from foundation to eye bottles. Top them with one of inner caps to help prevent leakage. Try packaging foundation and liquid makeup in these cute little drop bottles for a product your customers are sure to love!
A creative new way to package your cosmetic foundation, our dropper liquid foundation bottles have good performance in the market, our cosmetic customer launched this new packaged liquid foundation to the market, they inevitably attracted a lot of attention.
 Plastic bottles are ubiquitous and essential in our daily life. Our most important thing is to provide quality and price matching products to the people who need them. As cosmetic bottle manufacturers, we have many kinds of bottles and custom cosmetic containers. Transparent or any colors in the pantone system could be required. View More
Cosmetic Plastic Lotion Bottles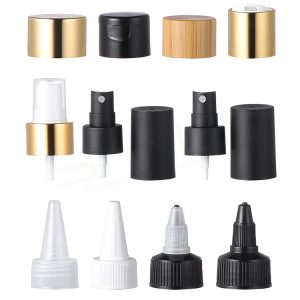 As professional cosmetic plastic bottles manufacturers, Our cosmetic plastic bottles are made with high-quality materials and manufacturing techniques .Such as PP , PS ,Acrylic ,PET etc. In the health and beauty industries, cosmetic bottles are as important as the product itself. The look and feel must reflect the high-quality product inside, protect it from contamination, heat, and UV rays, and be easy to handle, and in some cases, portable.
PE/PET is very common with the transparent bottles body for plastic bottles materials. PP/PE is common for bottle caps materials, and gold shiny cover is aluminum, Our beautiful and practical cosmetic lotion bottle is great for natural skin care lotion, serums, foundations, etc.
Custom pe plastic bottles are a good option for cream, lotion, gel and serum in skincare packaging, beauty packaging and makeup packaging. From 30ml to 500ml, with a variety of colored lids, and decoration services, we almost have clear bottle as makeup containers for an entire beauty line. The smooth little clear bottle can be sample for the formal cream products, which ensures your product will stay in the bottle during transit.
The two types of plastic bottles that we sell very well and have a good rating are as follows:
1.Cosmo round plastic bottles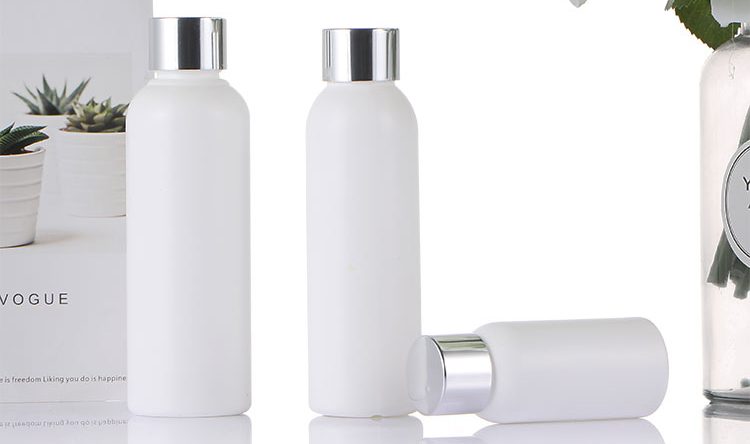 This custom plastic bottles available capacity and color: 100ml~1000ml, with disc cap, lotion pump, sprayer in white black, gold, rose gold, sliver. If these colors are not enough for you, we can customize the colors you like because we are origin plasitc cosmetic bottles manufacturers. Any colors in the pantone system could be required. And we can make it as your sample or the pantone number you provided.
 You can use this convenient lotion bottles organize all skin care products you need, And our labeling and printing decorating services would make your products more appealing in the market.  View More
2.Boston round plastic bottles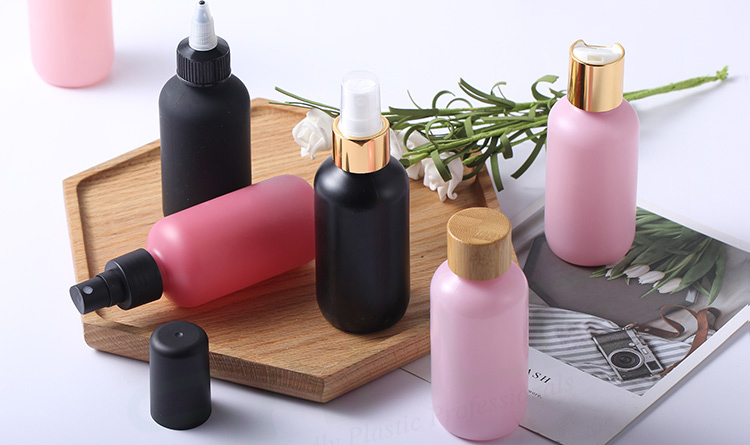 This is boston round shape PE Plastic Bottles JF-155 For Body Lotions shampoo Creams. If the following these colors are not enough for you, we can customize the colors you like. Any colors in the pantone system could be required. And we can make it as your sample or the pantone number you provided.
As cosmetic bottle manufacturers, we provide custom logo printings (silkscreen printing, hot stamping and offset printing). Paper labeling and plastic stickers are also available.
The raw materials use with 100% brand new, recyclable, environmental friendly and perfect available for food packaging.
SANLE- cosmetic plastic bottles manufacturers, offers a variety of cosmetic jars with lids that are carefully frosted to provide a unique and lasting look. Because we manufacture the identical bottles at more locations across the country, our customers have a distinct supply advantage during surges of production or when they need to ship to multiple filling locations. And, if you're expanding to Europe, an eighth location focused on nutritional supplement customers can meet your needs internationally. Click to learn more boston round bottles.
Material of Custom Cosmetic Containers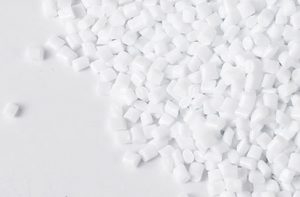 Modern cosmetics and detergents are packaged in a variety of forms, types and designs. Different material elected for Plastic bottles, due to the different age, gender, occupation, culture and economic level, consumers' shopping psychology is also different. So a lot of plastic packaging needs to be customized to suit different product needs.
As one of the leading cosmetic bottle manufacturers, we have a variety of plastic bottles and jars that could be ideal for your makeup line, material from LDPE, HDPE, PP, PET, PETG, PS, ABS to Acrylic. We produce millions of plastic containers and items every month, including accessories, bottles, jars and boxes. We make sure to use the most appropriate materials for your cosmetic packaging.
Except to printing on cosmetics bottles and cans, we also provide decorating service. Customers can customize the label, select their favorite label design, give us the label to produce, and attach the label to the bottle or lid. You can choose from our extensive array of decoration technologies to make their packaging truly unique, including silk screen printing, metallizing, hot-stamping, and more.
Silk Screen Printing
The company's printing departments can decorate round, flat and flat-oval bottles and offer multi-pass printing of several color to very tight tolerances, using both conventional and UV printing technology. Silkscreen offers bright, firm color for striking designs.
Shrink Sleeving
We offers full 360-degree wraparound coverage on bottles of any shape and size using full-body shrink sleeve labels.
Lableling
Sanle Plastics offers pressure-sensitive, roll-fed, orientated labeling in all sizes. Equipment is engineered to ensure a high degree of accuracy and repeatability of label placement, including spot labels, base labels on jars and wraparound labels on bottles and tubes.
We has helped nutritional customers differentiate themselves with custom logo and colors, as well as environmentally-friendly solutions such as post-consumer resins and light-weighted preforms.
SAN PLASTIC has mastered the art of PANTONE color matching. For both single-stage and 2-stage colors, we have a reputation for making even the most difficult pigments meet your expectations from run to run. Working with a color swatch or existing packaging, we can match colors in transparent, translucent, opaque or metallic PET. Looking for frosted or pearlescent colors? Can do. For the ultimate in attention-getting, we even create high-impact fluorescents!
Production process
A traditional manufacturing process for a clear cosmetic PE bottles with Drop cap.
A PE bottle :JF-067
Bottle material :LDPE;
Nozzle material :LDPE;
Cap Material:PP
The cosmetic PE Bottle is produced by blowing machine,Nozzle and Cap are produced by injection machine.
Bottle manufacturing:
Prepared Raw Material(mixed color if need )—Blowing Department(to put raw material into blowing machine,handle the machine)—-Print Department(directly print on the bottle or to make label on the bottle )—Packing department(to do packing)
Nozzle and Cap Manufacturing:
Raw Material(mixed color if need )—Injection Department(to put raw material into blowing machine,handle the machine)—-Packing department(to do packing)
Printing on the cosmetic bottles:
Need to do print plate according to the print artwork—-adjust the print color —directly to print on the bottle
Labeling on the cosmetic bottles:
Usually we used are coated paper and synthetic paper,it will be labeling to the bottle by machine or by hand ,depend on the bottle shape or label size
Sanle- plastic cosmetic bottle manufacturers, offers a comprehensive range of some 900 standard cosmetic bottles, caps, jars and containers with new designs and sizes being added all the time.
If you can't find exactly the right design within the wide range of existing standard moulds, then the company's design team will create it for you. Sanle Plastics has a full custom moulding service for exclusive designs of cosmetic bottles, caps and jars and can also make other customer plastic moulded components for all industry sectors.Two kinds of moulding:
Blowing mold
Used to form hollow plastic containers (such as cosmetic bottle ,beverage bottles, daily chemicals and other packaging containers),  only applicable to the production of thermoplastic products, die structure is relatively simple, the materials used to make more carbon.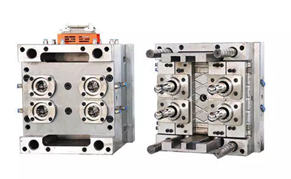 Injection mold
Mainly used in the production of thermoplastic plastic products has been widely applied in the kind of forming dies, molds the corresponding processing equipment is plastic injection molding machine, plastic in the first place in the bottom of the injection machine heating cylinder heated melting, and then in the injection molding machine screw or plunger, driven by the injection molding machine nozzle and mould gating system into the mold cavity, cooling hardening molding, plastic mold release products.Its structure is usually composed of forming parts, pouring system, guiding parts, pushing out mechanism, temperature regulating system, exhaust system, supporting parts and so on.Manufacturing materials usually use plastic mold steel, the common materials are mainly carbon structural steel, carbon tool steel, alloy tool steel, high-speed steel and so on.Injection molding processing mode is usually only applicable to the production of thermoplastic products, plastic products produced with injection molding process is very wide, from daily necessities to all kinds of complex machinery, electrical appliances, auto parts are molded with injection mold, it is the most widely used in the production of plastic products a processing method.
Our Factory
Our factory is located at the middle of the East China Sea coast,Taizhou City, Zhejiang province- which is known as ''a kingdom of plastic products". we have designer ,R&D department, mould department ,technical engineer ,structural engineer,to do your design step by step. Our Sales, R&D center is in Hangzhou, the provincial capital of Zhejiang province.
As an expertise plastic cosmetic bottle manufacturers and comprehensive solutions partner, we will always provide you with high-quality products, premium services, and custom design solutions, to help you to build your own brand and stand ahead of the crowd. 
Our customers
One of my clients from Malaysia needs to print black LOGO on the lid of a customized cosmetics bottle. After the logo is confirmed, we have an artist to place the logo on the corresponding lid, and the size are suitable for the size of the lid. Send the effect drawing to the customer, the customer is very satisfied. Soon arrange the factory to produce the sample and send it to the customer. The customer was satisfied and wanted to print the logo and words on the body of the bottle.
Another customer in the United States, also custom cosmetics bottless. It is used to store the lotion needed for manicure. The tank body logo is printed in black, and the tank needs to be frosted, and the lid is electroplated in teal color. After the sample was produced, the customer liked it very much, and said that next time, it should be printed on both sides of the bottle, with two colors on the front and the introduction of ingredients and warning words on the back. There will also be more quantity than the first order.
Customer feedback and increased orders are enough to show that our customized products have been recognized by customers. It also shows that our production of cosmetic bottles, electroplating, frosting, printing and other production technology mature.
As professional cosmetic bottle manufacturers, we make customized cosmetic packaging for various customers, including companies like Nestle, Clinique, Estee Lauder, Disney, Shisedo, Abbot Laboratories, and Quiznos, among many others. What the customer needs is what we are doing right now, and what we are doing is centered on the customer's requirements.What's more, business is about mutual trust. We are very honored to have your trust and support. I believe that we will do better and better in the affirmation of every customer.

How to order custom cosmetic containers from us?
If you have the draft drawing or an idea, it is ok to send us, Sanle plastic have their own design department and mold department, can make it according to your idea. Or if you have the sample of the cosmetic container, we also can open the mold according to the sample you offered. The process as below :
1. Send us your idea or sample in AI or PDF format;
2. 3D drawing will be offered for your approval;
3. Develop mold and sampling;
4. Samples for your approval;
5. Mass production and shipment.
Each step will be followed by your confirmation. We are very responsible and professional to make the products you want. A better business needs more communication, sure if you have any difficulties or concerns about product or shipping that may probably need please share them to us so that we can offer to help with our professional product knowledge or experience.
From concept to completion – the total packaging solution with fast speed to market.
Sanle Plastics offering one-stop boutique service. We support you throughout the entire process from design selection and development all the way through to after-sale service.
As professionalplastic cosmetic bottle manufacturers, SANLE is recognized for having the most complete families of bottles and jars, from the smallest sample sizes to one-liter options, and many sizes in between, contact us to know more!
Related products